The Site and our mobile application may contain links to affiliate websites, and we receive an affiliate commission for any purchases made by you on the affiliate website using such links. We are also a participant in the Amazon Services LLC Associates Program, an affiliate advertising program designed to provide a means for us to earn advertising fees by linking to Amazon.com and affiliated websites.
---
So you're thinking of hosting a virtual party! (I mean, it's 2020, who isn't?) But when it comes to wedding related parties, the bar for getting it right feels a little higher. (If you want to have a virtual wedding, we've got you covered.) Most of us are having quarantini time, or general check in with friends on digital conferencing platforms, like FaceTime and on apps like House Party. But what is the best way to host more structured social events, like bridal showers or bachelorette parties?
Let's make no mistake: bridal showers and bachelorette parties are still happening. Just in ways that we never imagined. So far into shelter in place, I've seen a bachelor party on Live on Instagram. (10/10 do not recommend, things get weird when there are 10 bros on IG live after multiple rounds of virtual tequila shots.) I've seen screenshots of Zoom parties with multiple generations involved (love this). There has been virtual karaoke as a live event, this I do recommend. What I'm trying to say is that there's no handbook for how to have an event in our current state. So the only thing you can do is make it yours. And as always, we're here to help you do that.
Virtual Party Logistics
After hosting a milestone birthday party via Zoom, I walked away from that experience with some insight. If you're going to (virtually) get a group of people together and have things feel like a party, minus physical contact, there are some things you need to keep in mind.
Invitations: Even though you're not requesting that guests show up to a physical space, you are requesting that they show up to a specific one at a specific time. Make it your virtual party feel formal (and pretty) with our favorite digital invites from Paperless Post, their flyers are free (with .gifs!) and completely customizable and even updated their templates to include a digital location option for your event!
(Virtual) Party Theme: While totally not necessary in normal times, themes are a great way to make things feel like a party—not a meeting. (We rounded up 65 wedding related themes if you need inspiration, and the kitten theme is one we all need right now.) If you want a themed virtual party (looking at you bach parties) go all out! Just make sure you give your guests enough time to really lean into it.
Pro tip: take this opportunity to really customize your fancy digital invites and take full advantage of Zoom backgrounds!
Games: Decide early on what games you want to play with guests and build time for the games into your virtual party schedule. If you want to play a traditional game, like bingo, that's totally doable. You know how I mentioned Zoom backgrounds? There are templates available for Zoom bingo on Canva or you can have guests print out their own bingo cards at home. You can also do a quiz game (all about the couple!). And lean on teaching resources to customize your gaming experience (I used Factile to set up a personalized Jeopardy game). There are as many virtual games as you can imagine, so tweak games from our list here to make them optimal for a digital experience.
Technology: There are so many different platforms online where you can host your event and there is a reason why Zoom is often praised as one of the best. With a free account you can host up to 100 people. The only downside is that it limits you to a 40 minute meeting so if you think you and your crew are going to go over that limit I'd splurge for the next tier of membership at $14.99/month where there are no time limitations (you can cancel at any time).
Special Touches For Your Virtual Party
Let's not forget about the most important part, the guest of honor. In times of crisis, like now, everyone is looking for a way to create joy and connection, and show up for people. Plus, you've got nothing but time. So take some of those stuck-at-home-hours to make the event extra special for your person. Here are our best ideas:
Food: There are a bunch of food delivery services available across the US offering up all types of edible products. Order your guest of honor's favorite dish from their favorite restaurant and get it delivered to their front door or send them a whole cake from Milk Bar (no regrets). My favorite thing I've seen restaurants in the area doing are brunch kits. You heard me right, comes with mimosa supplies and all.
Alcohol: Were you dreaming up a fancy cocktail party? Maybe you wanted to give your signature drink a trial run. You can still make it happen. Depending on where you're located you can now get wine, beer and spirits delivered. BevMo has the option for delivery via DoorDash and Total Wine & More is offering same day delivery. If you don't want to go with the big box shops, check your local wine bar or bottle shop to see if they're offering takeout or curbside pick up.
Decor: Even though this get together is online, it should still feel like a special event. Send your guest of honor some party decor to jazz things up. Balloons, garlands, banners, party hats, sashes, cake toppers, confetti, you name it. Now is the time to go all out!
The Nitty Gritty
Congrats! You have all the fun stuff ready to go, orders are placed and out, the cake and champagne are en route to your guest of honor, what could possibly go wrong? Well, with technology, a few things. I'm not saying this to scare you, but as a logistics gal, I cannot stress this enough. do a test run.
Speaking from experience, I had an "oh shit" moment while throwing my partner's virtual birthday party. I was feeling super ambitious and decided to create a Jeopardy game. (What can I say? I enjoy a challenge.) But at the last minute, I realized that thinking something can work, and something actually working are… different. So the day before the virtual party I enlisted the help of another guest to test everything out. And sure enough, there were some glitches with how the game interacted with Zoom ,and I was able to work out those kinks before things actually went live. It was a (pun-intended) total game changer. By the time I was in hostess mode, I wasn't stressing over how things were going to work and was able to fully enjoy hosting friends and family from all over the country.
When it came time for the party to get started, it turned out that having a game pre-planned made the party. First, it gave a sense of structure to the virtual party, and stopped twenty people from talking over each other. Not lying here, it's pretty hard to contain excitement when your folx haven't seen each other in some time (everyone spent the first 30 min of the party yelling "HI, I MISS YOU SO MUCH" and giving air hugs to each other, it was great). Second, it kept everyone entertained. Since I sourced questions from party attendees, everyone contributed and felt like they were part of the process as well.
Go Easy On Yourself (And Your Guests)
Digital parties are a new concept for all of us. We're learning new ways to connect everyday and with that comes a learning curve. Go easy on yourselves and your guests. Your digital celebration might not be perfect, but it will be meaningful, even if that means one of your guests accidentally turns themselves into a potato like this lady (not mad at it).
Most of all, go with the flow. Tech glitches will happen, people will pop in and out or show up for just a portion of the party. At the end of the day, we're all here to celebrate small joys and silver linings.
Supplies for your Virtual Party
Custom Painted Champagne Bottle by Paper Gems Co via Etsy
Make it special and personal for your guest of honor by getting this beautiful bottle of champagne hand painted with their initials, their pet or even the wedding venue. Pro tip: this is a great gift to have multiple guests chip in on!
Party & Bullshit Banner by Dixie and Twine via Etsy
For when you're over giving AF.
New York Breakfast from Russ & Daughters via Gold Belly
You know that part where I mentioned brunch kits? Bring Russ and Daughters home with this kit from Gold Belly, and if bagels aren't your thing Gold Belly offers kits from your favorite restaurants all over the country.
Feyonce Photo Booth Props by A Serpico Designs via Etsy
Think of your webcam as your own personal photo booth, props and all.
Cocktail Umbrella Set via Urban Outfitters
I can't be the only one dreaming about a tropical vacation! Bring the beach home with these super cute cocktail umbrellas.
Bride or Die Shirts by Rose Gold Rebel via Etsy
Just because the party is virtual doesn't mean you and your squad have to miss out on coordinating outfits.
The Bold Floral by Urban Stems
Give us all the fresh florals!
Champagne Toast Candle and Birthday Party Candle by Homesick
Champagne toasts IRL aren't a thing right now, but this will do in the meantime.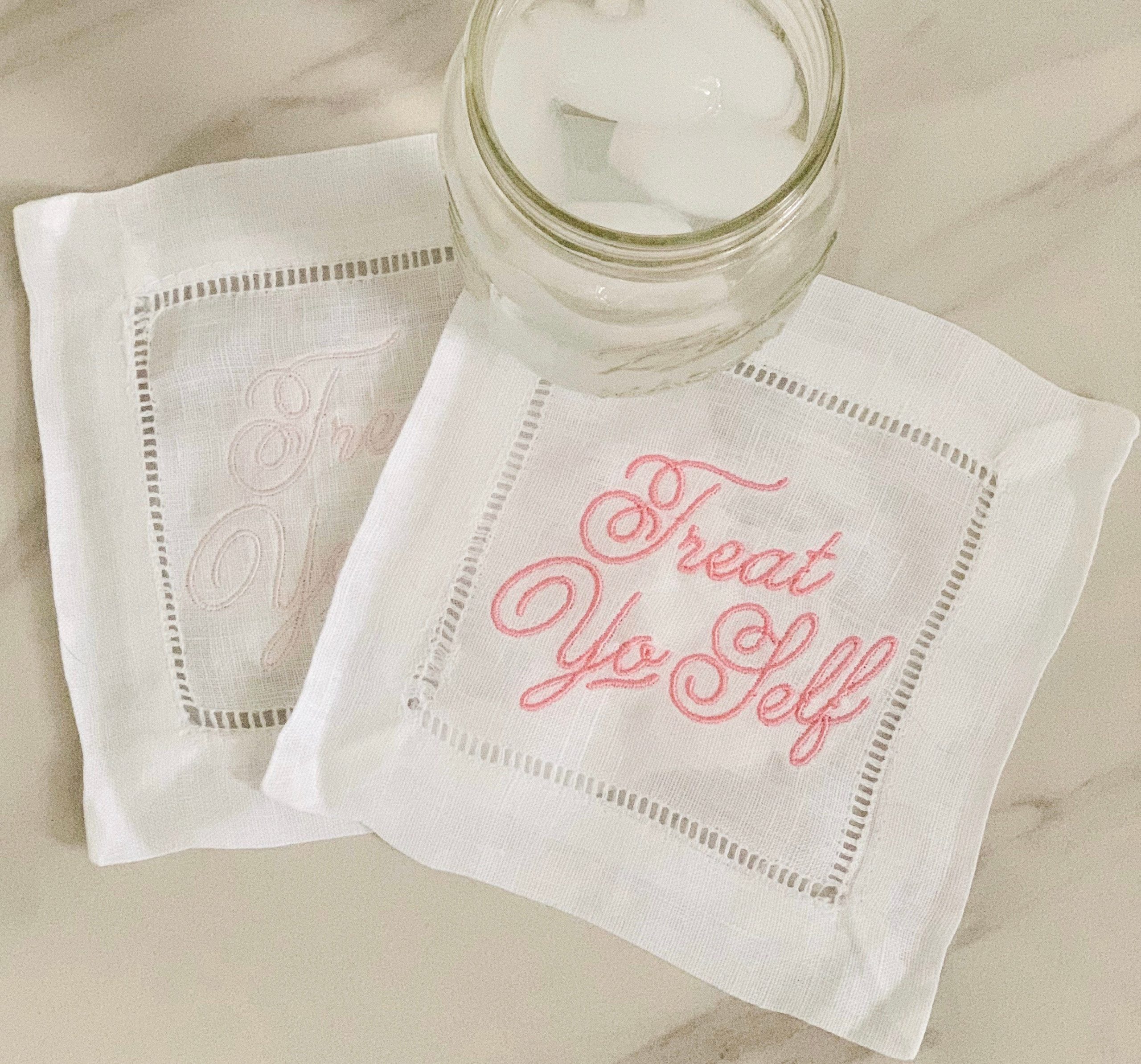 Treat Yo Self Customizable Cocktail Napkins by May and Magnolia Market via Etsy
Your guest of honor will have pinkies up during your virtual party with these cute embroidered cocktail napkins.
Engaged Sweatshirt by Bespoke Bridal Studio via Etsy
Middle fingers up. Sorry. I meant ring fingers. Keep it comfy, keep it classic in the soft engaged sweatshirt by Bespoke Bridal Studio (multiple colors available).
Have you thrown a virtual bachelorette party or bridal shower? What worked and what didn't for you? What are your best tips for a successful digital celebration? Let us know in the comments!