Back at the beginning of APW, our tagline was, "Creative. Thrifty. Sane." Because that, more or less, was what the rest of the online wedding space just wasn't helping me out with. Saving some money. Sanity. It wasn't even that our wedding budget was that small (I thought it was huge then, and in my more well-off real grown up life now, I still think it's huge). It's that it wasn't what the wedding industry hoped I had to spend. In fact, it wasn't even close to local averages (which was, and remains, bananas). But it was what we had, and I was determined to make a good wedding out of it. That means, of course, that APW has been collecting weddings that cost less than a zillion weddings for years now, and our archives are packed with good stuff.
The thing about weddings is both that you can do that for any amount of money in the world… but also if you're inviting a bunch of guests, they cost money. In fact, they can cost sums of money that we previously found mind boggling, in a life where we were not attempting to feed 70–125 of our closest friends dinner. So there you are, getting started wedding planning, looking at that huge-ass number you just wrote on a post-it, and trying not to pass out. And then you discover that the wedding industry thinks that huge ass number means you're having a "super budget wedding." And that you still can't afford the wedding Pinterest and the WIC is selling you—the one with the five-piece band, the professional photographers, the letterpressed invitations. Like, not even close.
So. Before you freak out. STOP, COLLABORATE, AND LISTEN. Today we're going to look at awesome weddings from the APW archives that cost (roughly) between $10,000 and $15,000, which we know is a really common budgeting goal. (In some cases we're really estimating, and the weddings might have cost significantly less, but they're awesome and inspiring nonetheless.) These weddings all had a reasonable number of guests. (Because there is nothing more frustrating then to figure out that the stunning $10K wedding you're looking at had only ten guests, making it a really well-funded small dinner party.) They all had some (if not all) traditional trappings we associate with weddings. And they all made their budgets work in totally different ways.
In coming weeks we'll round up weddings that cost less than this (because of course your $2K wedding is going to be awesome). But here are twenty weddings under $15,000 to inspire you as your work out your own budget.
Because yes, it can be done. And done damn well.
1. A Destination Wedding In Mexico
Cost: $13,000 | Location: Sayulita, Mexico | Number of Guests: 80
A weeklong paradise vacation party in Mexico. The couple spent the majority of their funds on traveling, lodging/venue, and a coordinator, and saved funds by going through big box retailers for their attire.
2. Intern Kelsey's Food Truck Art Gallery Wedding
Cost: ~$10,000 | Location: Denver, CO | Number of Guests: ~140
A glitter covered, kid-friendly, urban art gallery wedding. Kelsey and Julie split the majority of their money on food, staffing, venue, and photography. They saved money by doing their own flowers, and using a friendor for Julie's wedding dress.
3. A Low-Maintenance Methodist Church Wedding
Cost: $9,705 | Location: Tempe, AZ | Number of Guests: 84
A simplified Methodist church wedding that did away with most of the "things" the WIC says you need. The couple focused their budget on good photography, and saved money by choosing not to have flowers.
4. An Art Gallery Wedding In Chicago
Cost: $12,000 | Location: Chicago, IL | Number of Guests: 130
A homemade celebration of love and food, held at a nonprofit art gallery. The majority of their money was spent on the venue, allowing them to use whatever vendors they wanted. The couple saved money by DJing their reception with an iPod.
5. A Self-Catered, Community Barbecue Wedding
Cost: $10,000 | Location: Gregory, MI | Number of Guests: 165
A relaxed summer celebration on a private property. Most of the couple's money went to rentals and food, and they spent the least on alcohol for the party.
6. A Simple, Late Spring Wedding In Ontario
Cost: $10,000 | Location: Cambridge, Ontario | Number of Guests: 48
A DIY- and DIT-filled, family reunion-style wedding. The bride's brother is a pro photographer (and APW sponsor!) so they saved money with him shooting the wedding, and by DIYing their flowers. The bulk of their funds was spent on catering.
7. An Outdoor, Bay Area Budget Wedding
Cost: $9,219.83 | Location: Pleasanton, CA | Number of Guests: 75
A casual outdoor celebration with pretty flowers and tacos. Catering, the venue, and the dress (including alterations) made up almost half of their budget. They saved money by getting friends and family to help with photography and flowers.
8. A Laid-Back, Utah National Park Wedding
Cost: $11,000 | Location: Southwest Utah | Number of Guests: 85
A simple outdoor ceremony followed by a casual dinner, lawn games, a little dancing on the porch, and beer around a campfire. Half of the budget was food and drinks, and the couple spent the least on decor and music, and won a contest for photography.
Cost: $12,000 | Location: Austin, TX | Number of Guests: 120
An outdoor wedding in the gardens of a historic building in Austin. Their budget broke out into an even split between food, photography, and the venue. They saved money by not having to decorate the garden venue, and bought a mix of cake types instead of a multi-tiered wedding cake.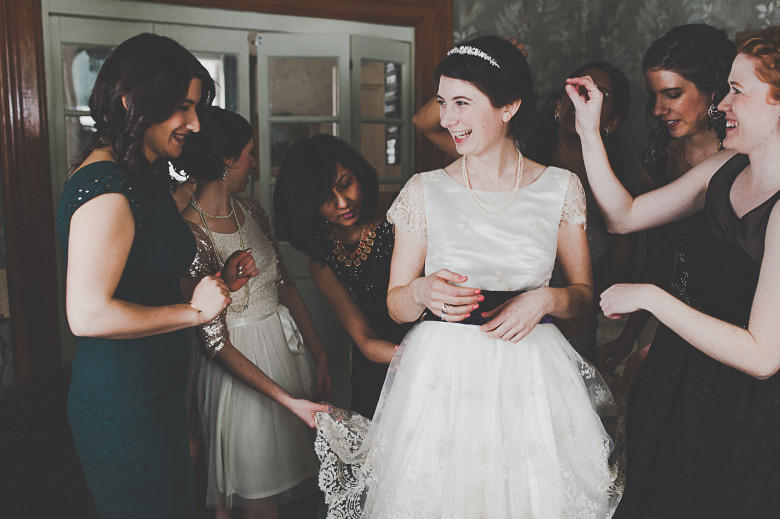 10. A Frugal, DIY Ontario Wedding
Cost: $9,000 | Location: Ontario | Number of Guests: 100
A DIY/DIT, winter wedding planned from scratch. Food was important, with the groom being an organic farmer, so the couple wanted to work with someone who would use their farm's meat, and so spent the bulk of their budget on catering. They spent the least on decor, music, and hair and makeup.
11. An All-DIY, Self-Catered Episcopal Church Wedding
Cost: $10,500 | Location: Silver Spring, MD | Number of Guests: 90
A church wedding made possible by family, friends, and a ton of DIY and elbow grease. Susie and Caitlin put their money into photography, then food and drinks after deciding to self-cater. They spent the least on ceremony and reception decor, crafting it all themselves.
12. A Relaxed Arizona Wedding At A Bed & Breakfast
Cost: $13,300 | Location: Scottsdale, AZ | Number of Guests: 76
A relaxed, joyful wedding with a cocktail reception. By opting for cocktails instead of a sit down dinner, Maureen and Harley were able to have a larger number of guests while sticking with the smaller venue that they wanted.
13. A Magical California Backyard Wedding
Cost: $11,000 | Location: Silverlake, CA | Number of Guests: 70
An backyard wedding planned in just seventeen days, to accommodate for the groom's mother who was battling cancer. Cat and Jonney allocated the bulk of their funds toward rentals and lighting to set up their house for a crowd, and photography. They saved money by asking friends to play the music at their reception.
14. An Island Wedding In British Columbia
Cost: $10,000 | Location: British Colombia | Number of Guests: 55
A funky, seaside wedding with an after-ceremony wedding parade! Joann and Bryan allocated most of their funds toward catering and photography, and saved money by getting flowers from Joann's mother's garden, and getting married on Bryan's father's front lawn.
15. A Melbourne Vineyard Wedding
Cost: Under $15,000 | Location: Victoria, Australia | Number of Guests: Unknown
Almost everything bought for the wedding was handmade, either by friends and family or purchased on Etsy. Caitlyn and Adam supported local businesses and vendors as much as possible. The bridal party hair and makeup, the wedding favors, and many of the decorations were DIY.
16. A southern, SEMI-DESTINATION wedding weekend
Cost: About $11,000 | Location: Hiawassee, GA | Number of Guests: 65
Lucy and Bryan saved money by picking a more rural area for their venue, and working with smaller local businesses for vendors, and DIYing all their flowers and decor with the help of family and friends.
17. A Green Wedding In San Francisco
Cost: $12,000 | Location: San Francisco, CA | Number of Guests: 85
A Catholic wedding, followed by a cocktail-style reception at a local organic brewery. Kate and Kevin allocated most of their budget toward food, drink, and photography. They saved by getting married on a Friday afternoon, and Kate wore a dress that had belonged to her grandmother (with clearance rack shoes and borrowed jewelry).
18. A Self-Catered Wedding For 200 People
Cost: $10,000 | Location: Washington | Number of Guests: ~200
A raucous outdoor wedding party for a crowd, held at the big house of a family friend. The couple saved money by calling in favors from family and friends for a variety of tasks, and by self-catering the reception.
19. Liz's Chic On The Cheap Wedding
Cost: $12,000 | Location: Philadelphia, PA | Number of Guests: 150
Channeling Audrey Hepburn and Cary Grant to create a lavish, jazz-music-pumpin', champagne-flowin', party chock full of garters and bouquet tosses and "all the usual wedding junk." Liz, Josh, and friends prepared all the food, and also made the invitations, programs, table numbers, and all of the decor.
20. A Desert Wedding In Joshua Tree
Cost: Under $15,000 | Location: Joshua Tree, CA | Number of Guests: Unknown
"We asked a lot of questions every step of the way to help keep things real, affordable, and not wasteful, like, Can we do this ourselves ahead of time? Is it something we can delegate to our friends to do the day of the wedding? Is this something someone can do for us? Do we need this? Can we make it? Can someone who loves us enough to do so make it? Can we buy it used or rent it? Can we borrow it? What will happen to this after the wedding? How will this affect us if we do not have it? How will it affect our guests?"