The Site and our mobile application may contain links to affiliate websites, and we receive an affiliate commission for any purchases made by you on the affiliate website using such links. We are also a participant in the Amazon Services LLC Associates Program, an affiliate advertising program designed to provide a means for us to earn advertising fees by linking to Amazon.com and affiliated websites.
---
Let's talk about black wedding dresses. While I wouldn't change my wedding for the world, but now that it's been a couple years and I have time to breathe and think again, I've been completely obsessing over black wedding dresses. During the wedding planning process, appearance prep took a serious backseat to the many other things on my to-do list. When I did finally sit down to figure out the whole dress-and-accoutrements shebang, I was at a serious loss, and at the time, a black wedding dress didn't even cross my mind. After all, "inky" isn't exactly a go-to description for wedding attire. But with some of the stunning gowns and sheaths out there, I can't help but wonder how sleek (and hello, flattering!) a black wedding dress would have been—especially for a gal who's always been a little… dark… in the wardrobe department.
Because we're friends, and because this is APW, I'll share with you a little secret: I may have gone through a semi-goth phase in middle school. I may have shopped at Hot Topic almost exclusively. I may have gotten eyeliners for Christmas, and I may have owned not one, but two black faux leather trench coats, which, in a tropical climate like the one I grew up in, is even more absurd than it is for a normal twelve-year-old.
I've left that dark-style stage behind, but I did get comfortable wearing the ever-flattering, ever-classic non-color color. While in recent years, thanks to Rooney Mara's actually-kind-of gothic, Dickinsonesque take on her white fashion phase, a stray all-white piece or two has crept into my closet, just slipping on an ebony sheath still makes me feel cool, confident, elegant, and fierce. This means that snagging a full-on ivory formal frock I actually felt comfortable and beautiful in, for the day that would possibly be the most photographed in my life, was a tall order. I opted for a cloak draped around my champagne-sand wedding dress, but since that day I've daydreamed about a second wedding for an important anniversary. This time, I'll wear familiar black—preferably a high-drama black wedding dress with tons of luxe, textured details and feminine touches that give a princessed-out bridal feel, in a totally unique way.
Plus, some of our favorite wedding dress professionals are loving on black wedding dresses now too. Jacquelyn Ward, co-founder of Our Story Bridal in New York, notes that there are a lot of advantages to wearing black: "Go for it and wear a black wedding dress if it feels more like you. You want to be comfortable at your wedding. The great thing is that there is a higher chance that you can rewear a black wedding dress! Also, great to not have to worry about wine stains." In addition, she points out that you will be able to "look beyond the traditional bridal stores in order to find a wider selection of black dresses," which means a shopping experience that might not feel as "bridal," but will likely feel more familiar. Plus: so many options!
Elizabeth Dye, who designs some of the most incredible gowns out there (including the neon tulle confection Meg wore for her ten year anniversary party), says "I'm really glad that more brides are starting to embrace the idea of going beyond the white dress…For a black gown in particular, I love it in the context of a formal black tie wedding, or an urban evening reception." And because black is such a classic color, you can consider making a big statement with your silhouette. As Elizabeth notes, "If your heart wants a tulle ballgown but you fear looking too fussy, doing it in black, reads bridal but sophisticated." And Kait Altamirano, general manager at a&bé Bridal Shop in Sacramento, gets super excited at the prospect of more black wedding dresses. "They make such a statement."
It may be tempting to think you have to stick with all black everything once you've selected a black dress, and you can absolutely go that route! But you certainly don't have to. "Black is very elegant when paired with white florals and greenery," Elizabeth Dye notes, and adds that "touches of gold jewelry and jewel-toned velvet in accessories add richness." The great thing about black is how versatile it is; you can pair it with more traditional accessories or go in a totally different direction. Kait Altamirano points out that black wedding dresses "don't have to be any less bridal, so get the veil or accessory you want. You don't have to go super rock 'n' roll with it, but you sure as hell can… I personally would accessorize mine with a fringe leather jacket and edgy headpiece for a Stevie Nicks vibe!"
Fellow black-attire-loving brides looking to escape that white-eggshell-cream-ivory box, check out these stunning black wedding dresses—from sleek modern sheathes to beaded fairytale masterpieces. Black wedding dresses with sleeves? Check. Black wedding jumpsuit? Obvi. Plus, get an ogle at those price tags! A lot of these dresses aren't actually made for weddings (social color conventions die hard, as we all know), which means many are more affordable. And seriously, the wear-it-again possibilities here are magnificent.
Just one more reason to go to the dark side, eh? Without further ado, here are 25 of the best black wedding dresses out there. Want even more? Of course you do. Head to our Pinterest board for even more the glorious black wedding dresses.
The BEST Black Wedding Dresses
Sequin ombré glitters like liquid jewels on this long sleeve off-shoulder gown.
Meloti Gown via Tadashi Shoji ($408)
Classic little black dress, off-shoulder neckline, available up to a size 4x; this one really does have it all.
Timeless Favorite Off Shoulder Dress via Modcloth ($99)
Comfortably cool and fashionable with a midi sheath and cape.
Caped Wrap Midi Dress via BooHoo ($20)
Perfect for those princess nights when you're looking to add a touch of darkness without losing any of your magic.
Calypso Nightfall via MywonyBridal ($2,199)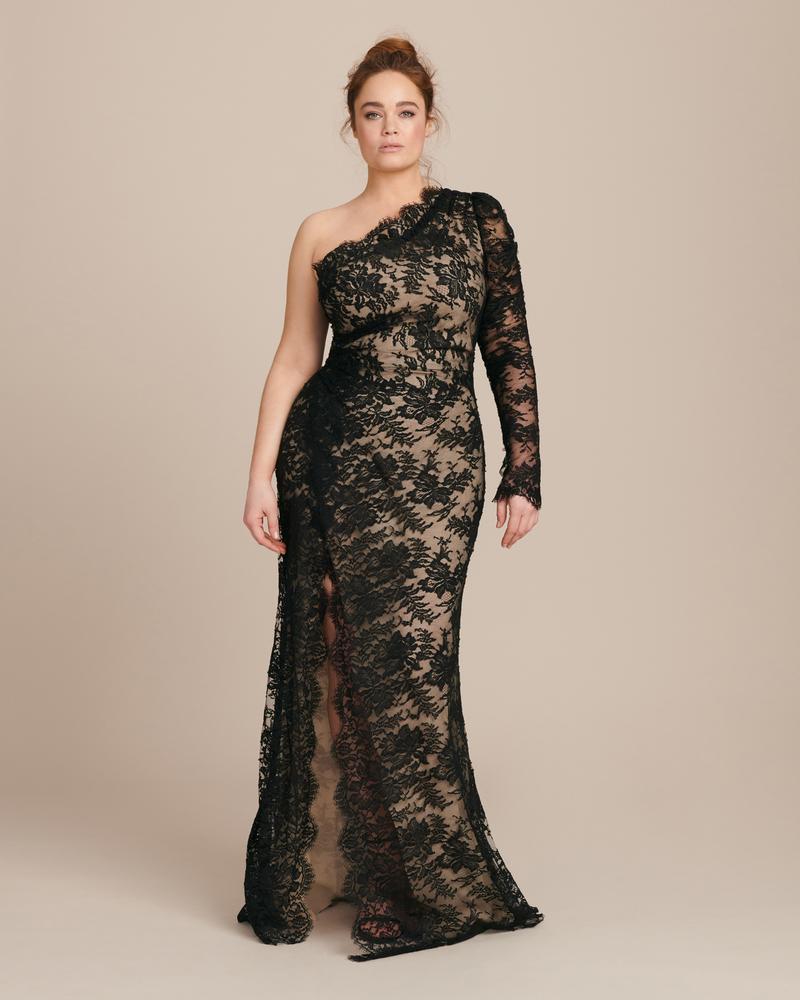 Off the shoulder, form fitting, and full of elegance.
Chantilly One Shoulder Gown via 11 Honore ($4,595)
A daring dress for an adventuress. This two piece ensemble features a structured taffeta bustier and asymmetric tulle ballgown skirt.
Furiosa Gown via Elizabeth Dye ($2,800)
This one is made to order in your size, available in a range from US 0–36. For under $100! With a fabulous neckline! Do it.
eShakti FX Tulip Dress via Amazon ($84.95)
Floaty, off-the-shoulder, floor length: pretty much guaranteed you'll wear this one over and over again.
Verbena Dress via Reformation ($328)
Lace embroidery lends a refined, feminine aesthetic to this easy-to-style mini dress.
Bella Lace Mini Dress via Anthropologie ($198)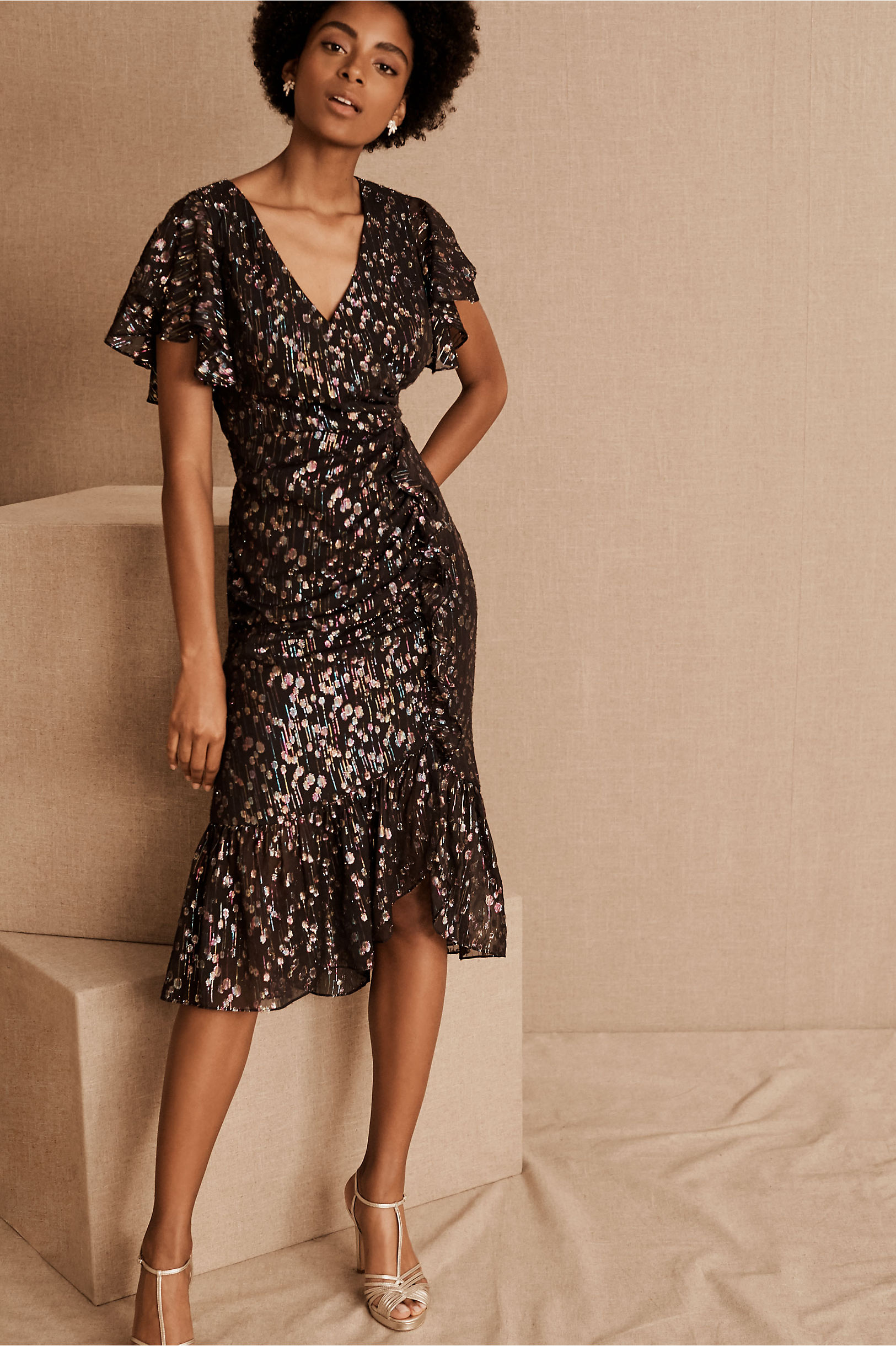 Butterfly sleeves and cascading ruffles lend movement to this gorgeously patterned faux-wrap dress.
Mestiza Velora Dress via BHLDN ($360)
A stunning addition to your collection of black dresses!
Iconic Cross Neck Crepe Gown via Halston ($395)
Feathered jumpsuit. I repeat: feathered jumpsuit.
Saylor Janae Jumpsuit via BHLDN ($295)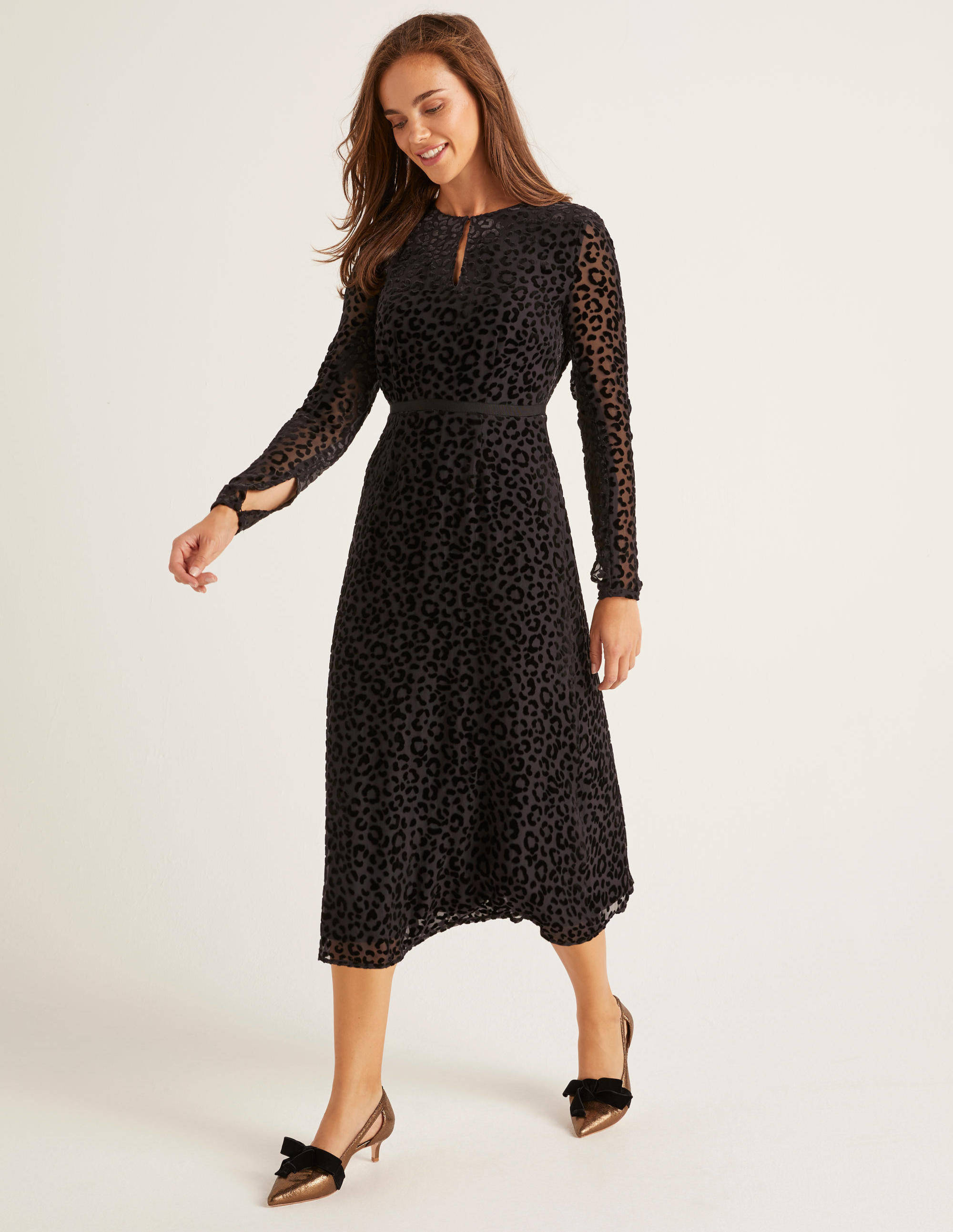 Crafted from silky viscose and covered in velvety leopard print, this on-trend midi dress is a statement staple.
Marie Devore Dress via Boden ($220)
Black wedding dress? How about a jumpsuit? A charming bow detail makes a playful finishing touch for this one-shoulder jumpsuit in sleek crepe.
Windham Jumpsuit via BHLDN ($198)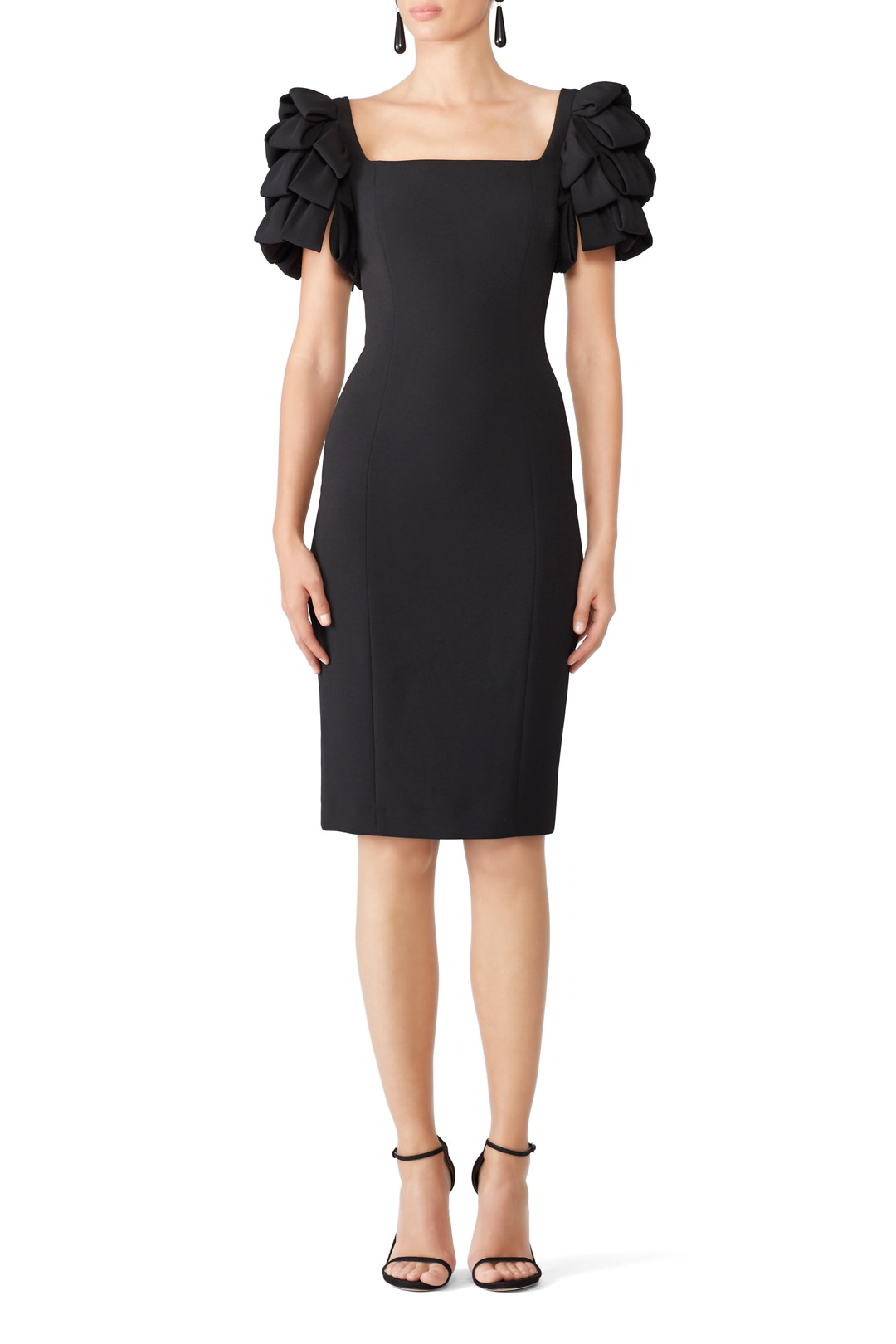 A ruffled sculpted shoulder makes this Badgley Mischka sheath an elegant and festive pick for a cocktail party.
Black Ruffle Shoulder Sheath via Rent the Runway ($75 rental)
A perfect sleeveless dress with a v-neck and that goes from full length to awesome.
Sateen Twill Gown via Neiman Marcus ($242)
This crepe gown with metallic embroidered raglan sleeves speaks to both the minimalist and the maximalist, making it a great choice for upcoming holiday parties and festive celebrations.
Noni Sequin Sleeve Crepe Gown via Tadashi Shoji ($368)
Inspired by a snowflake and decorated with soft pastel shimmering sequins crafted in a zig zag design.
Alaska Gown via Needle and Thread ($729)
How about some colorful color… and more color… but tasteful.
Multicolor Indie Gown via 11 Honore ($1,290)
A full length gown with just the right amount of feathers.
Grace Sequin and Feathered Gown via Huishan Zhang ($4,560)
A long flapper dress that's perfect for standing out at all those 1920's themed parties.
Metme Formal Evening Dress via Amazon ($55)
This black gown delivers on all the elegance and uniqueness that you need to make people take notice.
Draped Twist Back Gown via Fame and Partners ($349)
This draped velvet gown exudes a glamorous sophistication with its portrait collar, plunging neckline, dolman sleeves, and sunburst-draped skirt.
Malee V-neck Velvet Gown via Tadashi Shoji ($408)
A long satin slip style cocktail dress that's all the sultry you'll need.
Good American via Neiman Marcus ($165)
Crafted from sleek crepe, this body-hugging dress features a sultry off-the-shoulder neckline and feminine tulip hem.
Thompson Dress via BHLDN ($168)
Want to see more stunning black wedding dresses? You're in luck; we've got a Pinterest board for that. Take a peek for even more stunning black wedding dresses.