Having been a bride once and a bridesmaid a handful of times, I've learned that the only rule of bridesmaiding is that there are no hard-and-fast rules: expectations around attire, bridesmaid hairstyles, and makeup can vary wildly from person to person. What one member of your wedding party considers totally normal might seem absurd to another (personal taste is personal, y'all). So it's smart to lay your cards on the table good and early, before you get too deep into planning, to make sure everyone is on the same page. But how do you talk to your wedding party about things like makeup and bridesmaid hairstyles in a way that won't make them feel like they have to go out and change themselves? In a word: considerately. Here's what I recommend starting with.
how to talk to your wedding party about bridesmaid hairstyles
Establish who is paying for hair and makeup and how that will be taken care of. There are no absolute rules, but it's always nice to make the offer (if it's in your budget). Considering that your wedding party has most likely paid for their dresses, given you gifts at any showers and prewedding events you might have had, and possibly even traveled to get to your wedding, taking care of hair and makeup is a nice gesture to make.
If it's not in your budget (and that's fine!) it's equally important to be clear about that from the beginning. You can say something like, "I'll be having my hair done by [stylist] on the day of the wedding. If you guys are interested, here's the contact information—but unfortunately, it's not in our budget to pay for it." Another idea? Phone a friend. A lot of us know that one person who lives and dies by Sephora. If you've got one of those (heck, they might even be in your wedding party), ask if they'd be willing to help out, and then make sure you include a gift card to MAC or something with your thank you note.
But remember: if you're not paying for your wedding party to get their hair and makeup done, it's perfectly acceptable that they do their own (and hence, they will probably not be doing any complex styling).
Clearly communicate expectations. Most of us are trying to be considerate of our friends when putting together a wedding party. But there can be such a thing as being too nice. Your friends might not care as much about how they look as you think, or vice versa. So read the temperature of the room and make sure everyone is communicating clearly. You can say something like, "Hey, I want you guys to feel like yourselves at our wedding. Would you rather pick out your own hair and makeup, or have more direction from me?" You may find that your wedding party really just wants to be told what to do when it comes to bridesmaid hairstyles (sometimes it's easier that way) or that they'd rather have full control over their own aesthetic. It's way better to ask than assume.
On the flip side, if you really care about how things turn out, be honest about that. Try something like, "Hey guys, I'm really into this particular vibe for the wedding. Is everyone on board for that?" Or even, "I have a pretty clear vibe in mind for hair and makeup, but I still want you guys to feel like yourselves. Is there anything you absolutely don't want?" The worst thing you can do is pretend you don't have an opinion when you do—it just makes more work for everyone.
But be realistic: If you do have preconceived ideas about how you want folks to style their hair, try to keep in mind the realities of your friend group. Does everyone have the same texture and length of hair? (My rough guess: probably not.) Do you already have a good idea of who will want to DIY their hair and who will want to get it professionally done? If most of your wedding party has similar hair, then try to choose bridesmaid styles that can be easily DIYed (bless the braid trend). That way the people who want to get their hair professionally done can, and those who want to DIY won't end up a stressful mess over a hairstyle that should really only be handled by professionals. And remember: cohesive doesn't necessarily mean the same. Your wedding party members know their hair better than anyone else, so if they're all rocking something different, your best bet is probably to trust them to do their thing.
Don't ask your bridesmaids to radically change themselves. It bears repeating: It's not cool to ask someone to be in your wedding party… and then ask her to dye her hair a different color, cover up a tattoo, or take out her nose ring. (Unless it's, say, a requirement of your venue. In which case, mention that ish before you ask her to be a bridesmaid and make sure she's down for it.) You also don't want to ask your friends not to cut their hair so they can pull off the long wedding braid you had in mind—it's their hair, and they own it. If you love your friends and want them there, then let them be themselves.
30 bridesmaid hairstyles you can use for your wedding
Bridesmaid Updo Hairstyles
Jose Villa via Style Me Pretty
Photo and Tutorial via Hair Romance
A masterful center braid with the sides weaved in, and everything working together.
Photo by Zoe Allamby
A perfect updo with a casual not trying too hard head band
You Look Lovely via Style Me Pretty
A loose wrap around braid that keeps it all together in that effortless way, like you.
Photo by Natural Meze Curls
A but of a wave, a bit of a color, a whole lot of cool.
Photo and Tutorial via Hair Romance
A lovely updo + braid that incorporates loose locks.
Sock-Free Bun Tutorial via The Art of Hair Book
Tighten it up, and wrap it all into a magical bun right on top.
Braided Bun Tutorial via A Practical Wedding
Ooooo so beautiful, and classic, and off to the side, just a little.
Erika Layne Photography via Munaluchi Bridal
A wave and a bun and a perfect spot for the accessory.
Jen Huang via Style Me Pretty | Hair and Makeup by Chaili Meng
A braid incorporated at just the right spot, for just the right day.
Photo and Tutorial via Hair Romance
A loose braid that goes in and out and over and under and looks like it holds together without any work at all.
Vintage Sideswept Roll Tutorial at A Practical Wedding via The Art of Hair Book
Rocking that vintage sideswept roll and wave will have everyone swoooooooning.
Loose Side Bun Tutorial via A Practical Wedding
Sometimes a loose side bun is an art and sometimes you just need to be rocking that art.
Photo and Tutorial via Hair Romance
A wreath made of braided hair is often the best option.
Half-Up Half-Down Styles
Photo by Pabelona Studio via 100 Layer Cake
Perfectly braided and kept loose and flowing.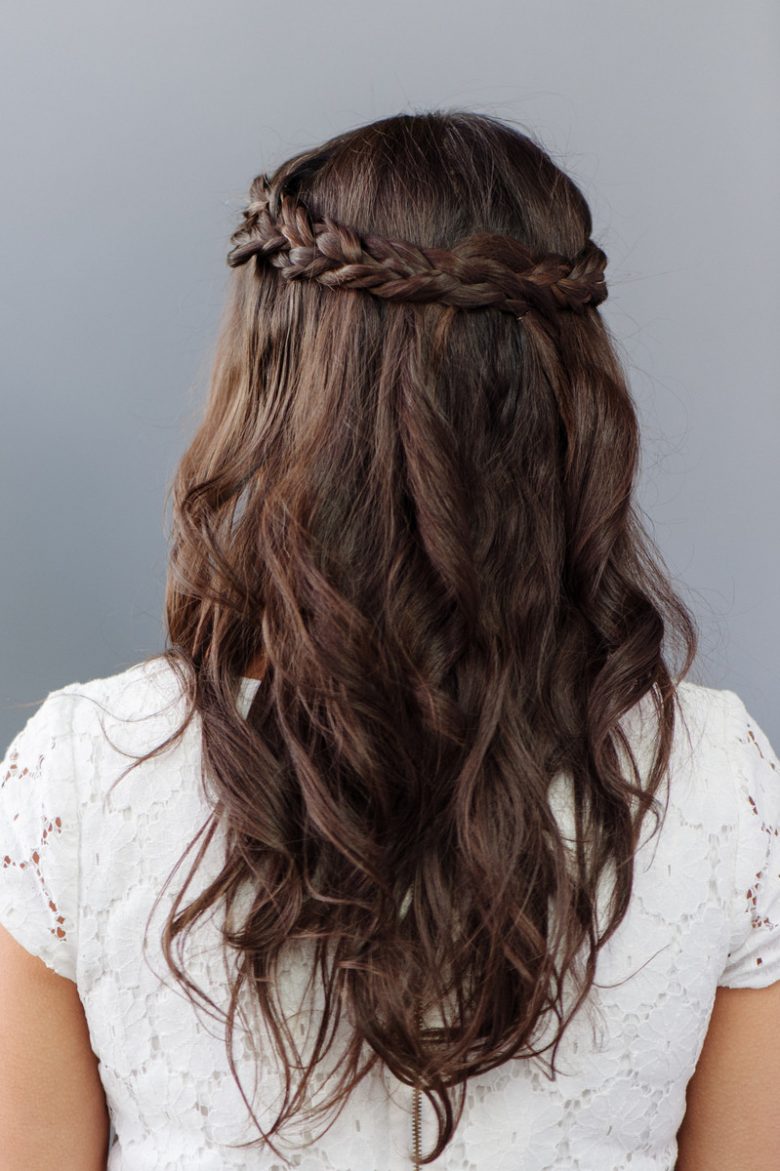 Braided Hair for Beginners Tutorial via A Practical Wedding
Adding all the dimension and dynamic lines.
Carmen Santorelli Photography via Style Me Pretty
Adding in flowers and greenery with the right matching colors will always be full of win.
Natural Updo Tutorial via A Practical Wedding
A natural updo with that effortless look and timeless natural…ness.
Koman Photography via Style Me Pretty | Hair and Makeup by 10.11 Makeup
Long hair and bangs and morning light and wedding days.
Photo by Muse's Uniform
Whether you're there for a party, or to get to work, or both.
Simple Half-Up Half-Down Tutorial via A Practical Wedding
Flowing hair that's in control the whole time.
Alexandra Grace Photography via Style Me Pretty | Hair and Makeup by Jein King
Style and texture and shape with all the options.
Blue Rose Photography via Wedding Chicks
A beautiful braid wrapped around with the flowing locks doing their thing.
Photo and Tutorial via Hair Romance
All that hair tied together with little fuss, lots of simplicity, and all the elegance.
Hair Down styles
Bridesmaid Hairstyles by Michelle Scott Photography
A loose hair style with the right flower crown.
Julia Kaptelova via Style Me Pretty | Hairpiece by Muse for Me
Simple, natural, and paired with the right hair band.
Lazy Girl Finger Waves Tutorial via A Practical Wedding
Did we already mention a loose hair style with the right flower crown?
Photo by Ciara Richardson via A Paper Proposal | Hair and Makeup by Hair & Makeup by Steph
Wavy, braided, and amazing all at the same time.
Lace Headband Braid via Missy Sue
A brilliant lace headband that can be worn… anytime.
Smooth Curl Tutorial for Naturally Curly Hair via A Practical Wedding
Curls and curls and more curls, forever and ever.
How is your wedding party wearing their hair for your wedding? Already married? Share a photo of your own bridesmaid hairstyles in the comments! And for more tips, check out how to choose a hair and makeup stylist for your wedding.