I remember watching my mom put together a boutonnière for my high school prom date and thinking that she must be the smartest woman alive for having the knowledge and skills to create such a floral masterpiece as a boutonnière. (I also felt this way when in fourth grade I discovered she could make fried eggs. WHAT A WOMAN.) The truth is, while my mom is awfully smart, boutonnières are actually really easy to put together yourself. And if I had a dollar for every time I've watched someone undo a pre-made overwrought boutonnière and then put it back together immediately before affixing it to a groom's lapel, I'd have…a lot of dollars. So we figured it's probably easier to just skip that step and teach you how to make one yourself.
The best part about creating boutonnières is that you don't need a ton of materials or floral ingredients. In fact, we made these using mostly leftover elements from the bouquets we made for this series. When done right, boutonnières can be made a few days in advance, so for this tutorial we made sure to use flowers that would hold up against a few days in the fridge without wilting and dying. (I actually took this one home with me after we made it and it survived my counter top for a few days before eventually giving up on me.) In addition to the flowers and ribbon listed above, you'll need scissors, floral tape, boutonnière pins and wire cutters.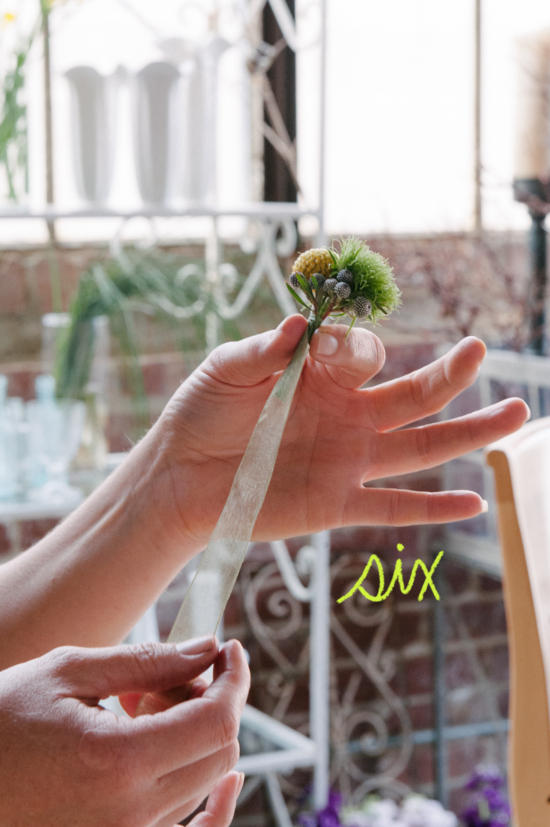 Photos: Allison Andres / Flowers: Belle-Flower
Making a boutonnière is basically like making a tiny bouquet. You want to start with your focal flower, then add in two additional flowers in different colors and textures around it. The key to an interesting but not overwhelming boutonnière is to use analogous colors. The easiest way to do this is to look at a color wheel and choose from the colors on either side of your focal flower. We used a yellow billy ball to complement our green mossy ball. (Side note: I desperately want to make an arrangement for my home using only this flower so that when someone asks me what it's made of, I can tell them it's green mossy balls.) If you want your flowers to pop against each other, look to colors across the color wheel from your focal flower and choose from within that color family.
Unlike a bouquet, you are going to stop building your boutonniere after you've created your three-flower base. At this point, you'll want to wrap your boutonniere tightly using floral tape. When it comes time to wrap the boutonniere with ribbon, Natalie has a trade secret. First, take your ribbon and hold it at the top of the stem, pinching the top and letting the ribbon hang vertically down the length of the flower stems (you want it to hang at least a few inches below the bottom). Then fold the ribbon under the bottom of the stems and twist the boutonniere, all while still pinching the top. The ribbon should twist perfectly around the stems and end just underneath the flowers. Cut off any extra ribbon. To secure the ribbon to the boutonniere, take a boutonniere pin and jam it up into the stem of one of the flowers. If part of your pin sticks out, cut the end with wire cutters.
Now, if I had a dollar for every time someone asked me how to put a boutonniere on and then subsequently made an ass of myself while trying to work my tiny baby hands around delicate flower arrangements, I'd be an actual billionaire. So I made sure to ask Natalie what her secret is. Turns out, I've been doing it wrong the whole time. The photo above is an example of how boutonnieres should be pinned on. Of course, I was immediately concerned for your safety (and my boobs) with the sharp point of the pin so close to the body, to which Natalie told me to either cut the sharp part of the pin with wire cutters or to put a rubber earring back on it. My mind responded by exploding.
How To Make A Bright Oversized Bouquet
How To Make A Recycled Watercolor Jar Centerpiece
How To Make A Simple Colorful Tablescape
How To Turn Grocery Store Cakes Into Wedding Cakes
How To Make A Trader Joe's Wedding Bouquet