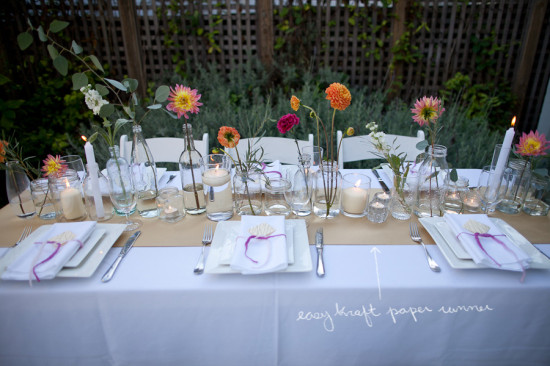 I think one of the most deceiving things about centerpieces is that they always seem so… complicated and EXPENSIVE. And it just doesn't have to be that way. In fact, you can decorate an entire table with super simple (read: super affordable, some of which came out of your recycling bin) elements and still make it look effortlessly elegant. Which, really, done. People look at your wedding centerpieces for the one second between when they find their seat and when they start talking with their old friend from high school and then go eat. You shouldn't spend much more time and energy on them, when you think about it.
So first, the centerpiece. The secret to a centerpiece like this is that it doesn't look too arranged (but… it still is kind of arranged). We used a variety of glass containers (most of them from the recycle bin) to give the centerpiece an easy, unfettered look. (Refer back to this tutorial on easy watercolor jars for instructions on how to get the labels off.) Here, balance is more important than perfection, so don't worry about getting it just right. If you're having trouble, try placing the tallest jars evenly spaced along your runner, and then surrounding them with the medium and shorter jars. Once you've got your jars arranged, add even more variety and visual interest by placing candles every in ever third or fourth jar (here we used floating candles, tapers, tea lights and pillar candles for extra variety). To finish off the look, place flowers and greenery in the empty containers. Lady, it's BEAUTIFUL. And really really close to free.
Now, of course, you won't actually do the centerpiece first. Nope. First you'll use basic table rentals. The best part about this tutorial is that it doesn't require fancy anything. We used the standard rental folding chairs, china and glassware, and linens to show you how much you can change the way a table looks even when you're using the standard-issue rentals that are often included with either your catering or your venue. Fancy linens, dishes, and chairs can be fun, but can also get shockingly expensive, and we wanted to show you some ways to decorate your wedding without having to swap out rentals. Then, we added the kraft paper table runner, then our super simple place cards, and finally, we tied the napkins with dip dyed yarn (which you can buy at any fancy knitting store). Bam. Done. Super cheap. And gorgeous (if we do say so ourselves. And we totally do).
Photos by Emily Takes Photos, Crafting by Elizabeth of Lowe House Events, Graphic Design by Michelle Edgemont