If you've been planning your wedding for more than half a second, chances are you've probably read an article (or twenty) talking about how to pick your wedding themes. Here's the secret: of course, you don't have to have a theme. Weddings already come with a laundry list of to-dos, so don't feel bad for not wanting to add another to your plate. You can keep it simple and maybe choose a really awesome backdrop and move along. But sometimes it's easier to pick a central ideal for your wedding, because then all other decisions can flow from that one, in true #LazyGirl style. And some folks just really like a full-on themed wedding (and we're very much here to admire their handwork, and hope for an invitation to one of these bashes). So if you perk up at the idea of a wedding theme, we've rounded up some killer ideas.
Now, how do you pick a wedding theme that's actually you're going to love? You might know right off the top that you're going, say, full Harry Potter, in which case, we have some cool weddings to show you. But for everyone else, you can start by looking into general styles that interest you: Are you thinking outdoorsy and rustic? Do you prefer a little vintage glamour? Are you and your partner a nerdy power duo who wants games and magic front and center for your nuptials?
To inspire your decision, we set out on a search for some of the best new wedding themes on the net. From neon to midcentury modern to Candy Land Christmas—we found some sixty-five wedding themes that cover a little something for every couple.
Here's a quick list of the wedding themes we love (scroll down for more deets and inspiration shots):
Ancient Greece
Eighteenth Century
The 20s
The 70s
The 80s
The 90s
Midcentury Modern
Cogs and Gears
Great Gatsby Meets Steampunk
Vintage Circus
Harry Potter
Wes Anderson
Alice in Wonderland
Wizardry and Whimsy
Superhero
Game of Thrones
Farm
Southwestern
Winter Rustic
Country and Cattle
Equestrian
Pastel
Neon
Color and Texture
Pop of Color
Mural
Fourth of July
Winter Wonderland
Pink Candy Land Christmas
Pumpkin Patch
Haunted Harvest
First Date
Kentucky Derby
Fine Art and Sculpture
Modern Art
Art Deco
Folklore
Super Mario
Board Game
Typography
Aviation
Kawaii
Children's Museum
Literary
School
Pizza Party
Wedfest
Rock Concert
Prince
New York City
Vegas
Ferry (aka Public Transit)
Urban Jungle
White Desert Sands
Lake
Fairytale
Citrus
Mermaid
Sequins and Glitter
Cat
Tropicana and Balloons
Woodland Wonderland
Unicorn
Celestial 
Rocker Glam
Vintage Wedding THemes
Photo by Eric K Choi Photography via Wedluxe
ancient Greece: This styled shoot was inspired by Ancient Greece. Create a party fit for a goddess or god with gold filigree, over-the-top centerpieces, and dainty arm cuffs.
Photo by Axioo via Rock N Roll Bride
Eighteenth century: This Indonesian bride turned her love of Marie Antoinette and the eighteenth century aesthetic into her dream wedding theme. Guests were transported to another world with their colorful and whimsical wedding.
Photo by Josh Goleman of The Wedding Artists Co. via 100 Layer Cake
the 20s: Dawning authentic 1920s wear by day and dining by candlelight by night, this wedding is straight out of an heirloom scrapbook. The bride and groom searched through flea markets to find things like vintage lace tablecloths to make their day uniquely antique.
Photo by Lara Hotz Photography via Green Wedding Shoes
the 70s: This disco chic wedding brings together all the best parts of the 1970s aesthetic. Integrate orange and berry hues into your venue decor, then all you'll have left to do is grab a disco ball and head out to the dance floor to catch that Saturday Night Fever.
Photo by Cameron Ingalls via Green Wedding Shoes
the 80s: Instead of going for the typical 1980s neons, try toning down your colors with a Miami Vice–inspired color palette. With a lighter color scheme, you'll have more room to play holographic and geometric designs.
Photo by Elaine Palladino Photography via Every Last Detail
The 90s: This couple celebrated their wedding like true '90s kids! Each of their table numbers featured popular sayings from the 1990s (i.e. "Get Jiggy Wit It"), a Nintendo was set up for guests to play, they had cassette escort cards, and their reception was held in a converted gymnasium.
Photo by Steve Cowell Photo via 100 Layer Cake
mIDcENTURY MODERN: The retro feel of midcentury modern can suit many different couples. You can go super minimal with just a few pops of midcentury elements or mix in lush greenery for a midcentury garden feel.
Photo by Peakography via Rock N Roll Bride
Cogs and gears: The lovechild of industrial and steampunk, the cogs and gears theme gives off a cool vintage feel but with plenty of edge.
Photo by Chellise Michael Photography via Ruffled Blog
Great Gatsby meets Steampunk: Achieve this theme with vintage furniture, a horn section, a classic car, and lots of love. Or make it your own by adding your own unique steampunk elements.
Photo by Cameron Ingalls via Green Wedding Shoes
vINTAGE cIRCUS: Celebrate big love under the big top with a vintage circus themed wedding. Bring together elements like fascinators and classic circus fun. Consider calling a few stilt walkers or acrobats too, while you're at it!
TV and Movie Wedding Themes
Photo by Nirav Patel via Green Wedding Shoes
Harry Potter: Grab a wand transport all your friends and family to Hogwarts for one magical night. Go all out with the decor to an otherworldly feel. Guests can even dress up to represent their magical persona.
Photo by Carly Romeo via A Practical Wedding
Wes Anderson: As a tribute to Wes Anderson, a favorite director of the couple, the bride and groom decorated with Anderson's iconic pastel color palette. Even the guests felt like they were in a movie.
Photo by Konstantin Semenikhin via Mon Cheri Bridals
Alice in Wonderland: Mix elegance and eclectic whimsy (think timepieces and teacups) to create your very own Alice in Wonderland wedding. This bride and groom had larger-than-life blooms made to give their ceremony a fantastical feel.
Photo by Wild Whim Design + Photography via A Practical Wedding
Wizardry and whimsy: If you don't want to go full Harry Potter, make your big day magical with small whimsical and wizardry details, like Cauldron Cakes.
Photo by Katie Pritchard via Green Wedding Shoes
sUPERHERO: You can choose to go all out with your favorite superheroes or keep it simple by sprinkling them in the most unexpected places. These groomsmen wore small superhero figurines in their boutonnières.
Photo by Karl Verkade Photography via Offbeat Bride
Game of Thrones: Live out your favorite TV show with a Game of Thrones wedding. Grab your cape and sword, and cross your fingers your wedding won't turn out anything like the original.
Rustic wedding themes
Photo by Jorge Santiago Photography via A Practical Wedding
fARM: Leave behind the hustle and bustle of everyday life and give your guests a taste farm life. Farm weddings are typically intimate and simplistic, so those in attendance can focus on what really matters: your love. (Bonus: You can even invite some of the farm animals to the party.)
Photo by Helen Byrd Photography via Southern Weddings
southwestern: Carrie and Grant mixed their Texas roots with Mexican influences to make their West Texas wedding beautifully unique, but you don't have to be from Texas or the Southwest to fall in love with the colorful details, tasty treats, and charm that region is known for.
Photo by Isaiah & Taylor Photography via 100 Layer Cake
winter rustic: Celebrate your favorite season with a little something extra, like rustic details. Whip out the flannel blankets, hot cocoa stations, and wooden chargers to give your wedding a winter rustic feel.
Photo by  SB Creative Co. via Nouba
Country and cattle: Country living is filled with everyday beauty, so why not amp up all the best parts of it and add a little glam to make your wedding extra cute and country? Josh and Vicky got married on the bride's family cattle ranch and treated their guests to a luxe and rural bonfire affair.
Photo by KT Merry Photography via Southern Wedding
equestrian: If you're looking for something a little more classic than your average rustic wedding that ties in your love of horses, consider an equestrian themed wedding. This shoot featured stables, simple florals, and delicate leather details.
Colorful wedding themes
Photo by Días de Vino y Rosas via Green Wedding Shoes
Pastel: Make your wedding theme your favorite color palette! This outside-the-box couple made their love of pastel the backdrop to their wedding party.
Photo by Ariel Renae via Green Wedding Shoes
Neon: Ditch traditional wedding colors and go bright and fun with a neon themed wedding! Fill your wedding with lots of fun, eclectic, and colorful elements.
Photo by We Heart Pictures via Love My Dress
Color and Texture: This wedding was colorful, quirky, and filled with texture. The venue was a perfectly imperfect warehouse, the bride wore a custom bedazzled veil, and the reception featured a multicolored streamer wall.
Photo by JC Lemon via A Practical Wedding
pop of color: A wedding theme that focuses on a pop of color is perfect for couples who like to keep it simple. This couple kept their palette clean but threw in bold hues where guests would least expect it.
Photo by Maggie Gaudean via A Practical Wedding
mural: This couple let their venue do all the decorating for them at their fun and relaxed celebration in front of a mural. Follow in their footsteps and go mural hunting in your city!
Holiday and Seasonal Wedding Themes
Photo by Lara Hotz Photography
Fourth of July: If the Fourth of July fireworks aren't enough of a reason to celebrate, make it extra explosive by marrying your best friend! Break out your most patriotic decor and do up your day red, white, and blue style. Or you could keep it simple by just adding pops of color to pictures.
Photo by Heather Burris Photography via Junebug Weddings
winter Wonderland: Cozy up to your friends and family with a wedding that celebrates all the best parts of winter. Ornament favors, warm and fuzzy textures, and spruce are sure to inspire a wedding winter wonderland.
Photo by Valorie Darling via Lauren Conrad
pINK Candy land Christmas: This theme puts a twist on the classic Christmas wedding with bold pinks, glitter, and, most importantly, candy! Add a candy station to your reception space and decorate frosted Christmas trees with your favorite candy ornaments.
Photo by Jessamyn Harris Photography via A Practical Wedding
pumpkin patch: Make your fall wedding extra festive by choosing pumpkins as your theme. Research pumpkin patch venues or incorporate pumpkins into your venue decor.
Photo by Tyler Branch via Green Wedding Shoes
Haunted Harvest: Spook up your wedding with a Haunted Harvest theme. Combine autumn's most popular holidays (Halloween and Thanksgiving) for a moody fall celebration.
Photo by Amy Gray Photography via A Practical Wedding
First Date: What's better than a theme that's unique to just you and the one you love? Model your wedding after your very first date, and give your friends and family a peek into how your love story began.
 Photo by Chris Cornwell Photography via Wedding Row Kentucky
Kentucky Derby: Make sure to let everyone know to bring out their biggest and brightest hat for your derby wedding! Blend old traditions (like seersucker and Mint Juleps) with new modern touches (like geometric centerpieces) to keep your derby fun and up to date.
ArtSY wedding themes
Photo by Clare Tam-Im Photography via Love My Dress
Fine Art and sculpture: This couple channeled their venue—a classical art museum—for their wedding inspiration. Famous sculptures served as the backdrop to their sophisticated fine art affair.
Photo by Chelsea Denise Photography via Junebug Wedding
Modern art: Embrace your love of modern art by decking out your decor with elegant lines, angles, and shapes. Bailey and Cale took their empty warehouse venue to the next level with a 3D backdrop and simplistic wedding florals.
Photo by Nessa K Photography via Junebug Wedding
art deco: This wedding's art deco cake fit perfectly into their 1920s inspired Jazz Age theme. It was an excellent statement piece for their otherwise simple and sophisticated event.
Photography by Cinzia Bruschini and Lisa Poggi via 100 Layer Cake
FolkLore: If you or your partner's culture has a craft/folk lineage with decor elements or activities you can build a wedding around, why not? In this wedding, the bride traded in her bouquet for a floral tambourine and the wedding procession was a parade. Their countryside reception also highlighted a vintage circus caravan and folk traditions from both of their cultures.
Nerdy Wedding Themes
Photo by Jerry Yoon Photographers via Rock N Roll Bride
super Mario bros.: Show your friends and family that video games are life by planning a Super Mario wedding. Infuse some of your favorite characters' signature style into your wedding ware and deck out your reception space with elements from the game.
Photo by Soda Fountain Photography via Offbeat Bride
Board Games: Incorporate your love of board games into your wedding! You can choose to make them playable so that guests taking a break from the dance floor will have something to do, or place the games around the venue as decor.
Photo by Erica Loeks via Ruffled Blog
Typography: It's only fitting that this design-loving couple had a typography themed wedding. The stationery and signage featured formal, feminine, modern, and industrial typographic fonts.
 Photo by Helena & Laurent via A Practical Wedding
aviation: This Aviation Museum wedding made the most of their venue with paper airplanes on the tables and a gold plane cake topper.

Photo by Jenn Emerling via Green Wedding Shoes
kawaii: Cutesy decor, childhood nostalgia, and colorful kitschiness are three things that reign supreme at kawaii themed weddings. This theme is all about making your wildest and most cartoonish dreams come true.

Photo by Maureen Cassidy via A Practical Wedding
CHILDREN'S MUSEUM: Embrace your inner child by centering your theme on a children's museum. Matt and Katherine incorporated kid-friendly features like a Lego table, a piñata, and pizza for dinner.
Photo by Ash Carr via A Practical Wedding
Literary: This literary wedding was held at a manor-turned-schoolhouse where they chose to forego traditional centerpieces and instead decorated tables with paperback books on the guest and (cup)cake table.
Photo by Jonas Seaman
school: Throwback to your school days with a school themed wedding. This couple rented their very own school bus to party and transport their friends and family to the reception. Ain't no party, like a school bus party.
Party Wedding Theme
Photo by Cassie Castellaw via A Practical Wedding
Pizza Party: Highlight your favorite food by turning your wedding into one big pizza party. With a big pizza selection (or a topping bar for extra customization), you won't have to worry too much about picky eaters, and your friends will thank you for not sticking them with something boring and bland.
Photo by Briars Atlas via Nouba
wEDFEST: Turn your wedding into an all-day wedding festival. Set up tents and stations, or book a campground venue so that your guests can mix and mingle, keeping the festivities casual and fun.
Photo by Justine Bursoni via A Practical Wedding
rock concert: Show your loved ones a good time by rocking out at a concert themed wedding. Hire a great band (or even perform), and celebrate your day with all your biggest fans.
Photo by James & Jess via Green Wedding Shoes
Prince: Honor your favorite musician with shades of purples and metallic decor. You can even devote a portion of your dance floor playlist to Prince's greatest hits.
Location Wedding Themes
Photo by Jacoby Andrick via A Practical Wedding
New York City: This easygoing couple married in at city hall then celebrated in the streets of New York City with a hot dog from a street vendor! They also took wedding pictures at the at a Subway entrance. It doesn't get any more New York than that.
Photo by Deezigner Images via Rock N Roll Bride
VEGAS: Lean into the wedding crazy and run off to Vegas to get married. Head to The Little White Chapel like these two, have Elvis marry you, then spend the rest of the night being the coolest newlyweds in town!
Photo by Andrew Bisdale via A Practical Wedding
ferry (AKA pUBLIC tRANSIT): Build your wedding around transportation like this couple did. Bethany and Keith got married on the Staten Island Ferry and had (part of) their reception on the New York Subway. Although it was fast-paced and raucous, they wouldn't have wanted it any other way.
Photo by Olive Photography via 100 Layer Cake
Urban JungLe: Class up your jungle wedding with cool and modern elements. You can even trade flowers for bursts of greenery throughout.
Photo by Ellen Ross via A Practical Wedding
White Desert Sands: Beautiful white sands are a great theme for a romantic and intimate wedding. Kick your shoes off and sink your toes in the sand. Moonlight is the only decor you'll need.
Photo by Our Labor of Love via 100 Layer Cake
Lake: This carefree bohemian wedding featured decorations inspired by good old-fashioned lake days. They had hammocks, a firework show, and even painted their initials on a nearby tree.
Whimsical Wedding ThemeS
Photo by Ely Fair via Ely Flair Photography
fAIRYTALE: Create your own whimsical fairytale wedding! Channel your wedding daydreams into a light and frilly feeling day. This wedding is filled with cascading flowers, dainty umbrellas, calligraphy menus, and lots of other classic fairytale details.
Photo by Ana Lui Photography via Bespoke Bride
citrus: Give your wedding a fresh feeling with a citrus theme. Pair fruity details and bright colors to create a tasty and refreshing orchard feel.

Photo by Laura Power Creative Photography via Bespoke Bride
Mermaid: Channel your inner Ariel with a mermaid theme. A seashell crown and glitter galore is a match made in heaven. Just like you and your boo.
Photo by Through The Woods We Ran via Rock N Roll Bride
Sequins and Glitter: This wedding celebrated with all things sequin and sparkle. The bridesmaids wore sequin topped dresses, and guests' tables were covered with golden glittered table runners.
Photo by Let's Frolic Together via Green Wedding Shoes
cat: This wedding is a cat-lovers dream! Everything from the stationery to the wedding signage features cuddly little kittens. Your feline friends can be there in spirit if they can't actually attend.
Photo by We Heart Pictures via A Practical Wedding
TROPICANA and Balloons: This couple shot for a tropical kids party and scored! The balloons and flamingos give the wedding a playful vibe, while the industrial venue still keeps the whole thing a little grown-up!
Photo by Helena & Laurent via A Practical Wedding
Woodland Wonderland: This wedding is Victorian meets boho meets woodland fairies (minus the wings). It was a three-day festival that's hard to sum up, but easy to love.
Photo by Roberta Facchini Photography via Wedding Chicks
Unicorn: Live out your wildest fantasies and invite a unicorn to your wedding! Why not create an ethereal wonderland?
Alternative Wedding Themes
Photo by Brandi Potter
cELESTIAL: Celebrate love and spirituality at your wedding. Let the sun, moon, and stars guide you to the perfect nuptial vibe.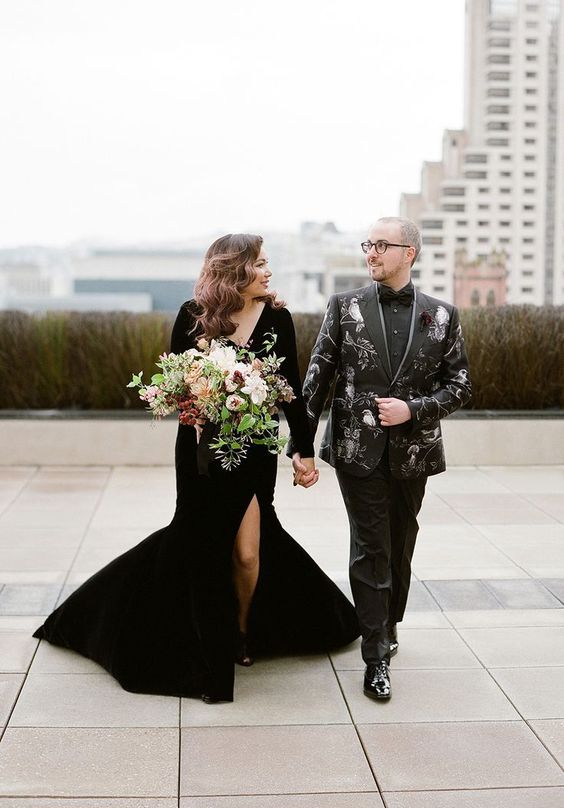 Photo by Jose Villa Photography via Style Me Pretty
Rocker glam: The rocker glam theme gives you the freedom to keep your edge and make it bridal. Ditch a traditional white gown, and get married in something that reflects the true you.

would you (or did you) have a wedding theme? what was planning like? PS: leave us links to your wedding photos. we want to see the crazy amazing decor!