This is a paid post from an APW sponsor. For more about APW and how we make money, please click here.
---
You've planned, delayed, canceled, re-planned, and now you're seeing the light at the end of this wedding planning tunnel. Like… you might actually be allowed to host a wedding that resembles the one you always wanted. Maybe? But, umm…. what now? Great question.
Let me pause to say: if you're in a place in the world where restrictions aren't lightening up or where the pandemic is still horrifically grinding on, or if for any other reason, your wedding is just not back on yet, please bookmark this post and come back to it later. We want to help you, not make you sad. This post is here to help folks that are facing down the daunting task of restarting wedding planning and execution after all the waiting.
A few months back, I wrote a big post full of guidance for wedding planning during a pandemic, and that's still a really great place to start. But now that we're seeing vaccine rollout success in the US, and states opening back up the restrictions to allow for events in many places, some of us might be finding ourselves with more stress than relief. I mean, some of us (ahem, me) have landed on a teensy-tiny wedding in order to be COVID compliant, but now… I could have more people there safely? (Maybe?) Keeping the groups small or expanding your guest list, masks, testing, vaccines… how on earth are you supposed to keep it all straight while also—I don't know—actually enjoying your (possibly quite prolonged) engagement? We've got some thoughts and guidance that we hope will make the process a bit smoother.
photo: Vivian Chen
Stop, Drop, Breathe
We always say that when you get engaged, you should pause and celebrate before you dive into planning. Well, this is kind of like that but… ya know… totally different. As a fellow pandemic bride, I totally get that the instinct is to hear updates on the news, or see a Facebook post about local regulations changing, and immediately put out the call to move your wedding up again. But please, for your own sake, take a breath first. Slow down enough that you can check in with the updated regulations, do some risk assessment, consider if changes in your state or town will be enough to warrant your friends and family traveling for your wedding. The answer to all of it might be 'Heck yes!' But you may also decide to slow down and let the dust settle. These are personal choices, so don't get caught up in frantically trying to rush to meet the world's expectations.
photo: Andy and Carrie
Clarify Your Priorities (and risk assess)
We're really big fans, here at APW, of assessing your overall wedding priorities before you make any big decisions. This is no exception. It may feel like you should throw caution to the wind, immediately tell all 300 of your closest friends to save the date, and start spending money recklessly and with abandon. Don't. Please. Future you will be grateful that you slowed down a bit.
Remember the mission statement and goals Venn diagram? It's back. Call a date night with your fiancé and start to list out the things that feel most important to you each. In this weird kind-of-post-pandemic world, your priorities could be things like: get married on our original date (this was one of ours), sing karaoke with no masks on, host a fancy cocktail hour full of mingling and finger foods…. you get the idea. The issue? Not all of these goals are conducive to keeping safety at the forefront. Yes, the United States is starting to open back up, but we're also seeing signs of variants and other issues that could change that. (I know, I hate being realistic too.) So, all I'm saying is that you'll really want to have a clear idea of what your make-or-breaks are, as you think about how to proceed. If you plan for 300 people, finger food, and karaoke, it might mean you have to hit pause… again. (Maybe? Isn't this new world of vagueness fun?) But if a small group and an outdoor venue are your priorities, it seems like you might be set to charge forward!
Check-In With Your Team
Weddings are a team effort. Not even just you and your partner (even if you're eloping). You've likely got a lineup that includes a venue, a planner, a photographer, a caterer, and more… Now is the time to reach out and connect with them. These folks are on your team, and they are going to be excited to get back to planning, too. Whether you're moving your date, or pushing forward with the one you have set, you'll want to be sure your whole team is on board. Now would be a good time to send a simple email checking in, asking if these folks have been vaccinated, and making sure that those basic details are set. Do this, especially with any key vendors (think: venue!) before you move on to more planning elements. You can't have a wedding without… ya know… a place to have a wedding.
A friendly reminder: some wedding vendors have been out of work for a year+ (and you're not the only couple that's needing their attention right now), they could have underlying health conditions, and some of them may not have been able to access a vaccine, yet. Reach out with kindness, and patience… you want these folks in your corner.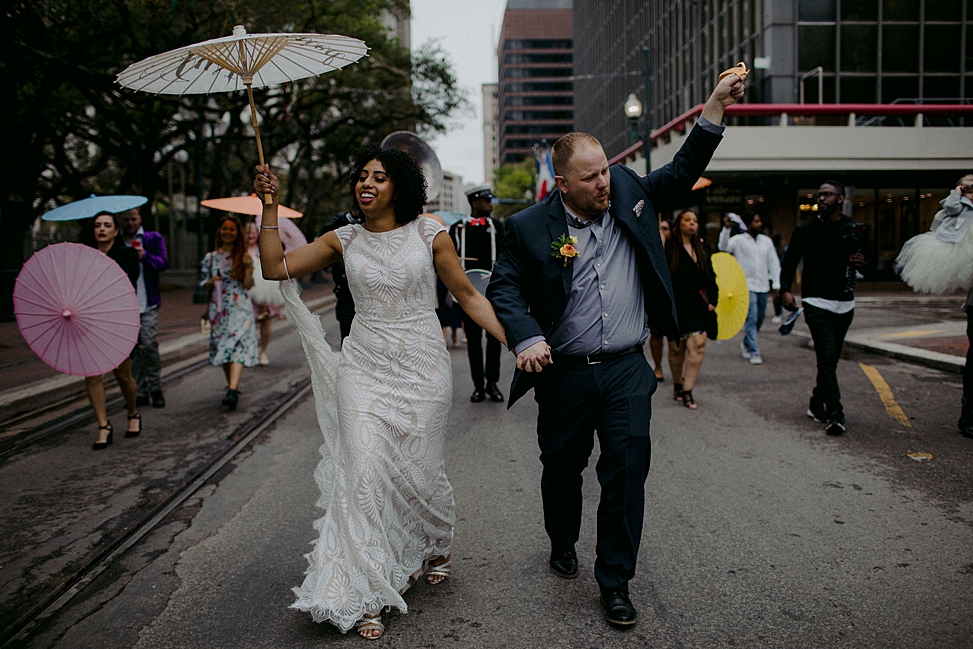 photo: Sharon Pye
Ask For Help
Like with all things wedding, you have a crew with you. You have those vendors that we just talked about, and they want the best for you. You also have your partner, your friends, and your family. I'm sure you've had a few people do the casual 'let me know if I can help.' Now is the time to call in those favors. There are plenty of wedding planning tasks that you can ask friends to help with, you don't have to do it all. Have a friend who's good with technology? Ask them to help you set up / update your wedding website. Is your mom just pining for a job? Ask her to be the point of contact for communication with your venue, so that you don't have to stress about missing an email. Maybe your best friend is really great with logistics. Ask them to sit down with you, a glass of wine, and a wedding planning checklist and start mapping out all the plans you need to finalize and delegate. Involving your people can be a way to take the stress off you. Especially if these looser COVID guidelines mean that you'll be doing the last six months of wedding planning in two months. You've got this!
photo: Studio XIII Photography
Communicate
You know it's coming, don't you? The not-so-gentle reminder to communicate with your guests? Here it is. Your friends and family got that save the date two years ago, then they got your change the date last year, and since then they've been just tapping their fingers and waiting. They don't want to bother you, or stress you out… they're just looking forward to an update and hopefully a chance to celebrate with you. Adding confusing communication (or non-communication) to the mix isn't going to help.
Do you have a wedding website? If you don't, I'm here to lovingly push you to make one. (Hop over to Squarespace, make an account, and get going—we'll walk you through the how-to.) It's one of those things that has always been a bonus on our wedding planning checklist, but truth be told, you need one. In 2021, with all the changes, guidelines, and fluctuation of plans… you will be happy you have it. In fact, I have tons of thoughts on exactly why a wedding website is worth it.
What you don't have to do is make it a big overwhelming project. We are here to make it as simple and painless as possible. We even have a checklist right here (⬆️) that you can download, print, and follow, so that you know you won't forget anything! And if you want more help, you should snag the ebook we put together that breaks the process down step-by-step, and check out all our posts with Squarespace—our favorite for easily building a beautiful website that will wow your guests. We've got you covered with wording you can steal, etiquette rules to follow on your website, even how to DIY some engagement photos to spruce it up!

Grab the step-by-step wedding website ebook here:

This post was sponsored by Squarespace. Squarespace makes beautiful wedding websites happen in a matter of minutes, thanks to their user-friendly software and modern, minimal template designs. Every yearly Squarespace purchase also comes with a custom URL, seemingly endless features, and of course, their award-winning customer service (just in case you get stuck). Click here to start a free 14-day trial and make your wedding website today. APW readers get 10% off your first Squarespace purchase when you use the code APW at checkout. Happy planning, friends.