Long time readers know about one of APW's pet projects: The Sisterhood of the Traveling Dress. This project started years ago when there were far fewer of us hanging around these parts, and it involved readers passing dresses, one to the other. It was one of my very favorite things in APW-land, but like all good things, it eventually needed to wind to a close. A few dresses were shared and loved, but far more often the idea of sharing a dress was more powerful than the difficult reality of sharing a dress, and tears were shed. So, to bring the series home, I'm honored to bring you Rachel and Jenn (whose new paper venture is over here), talking about the dress they shared, and loved. And just a warning. This one might not be safe for work. I cried when I least expected to…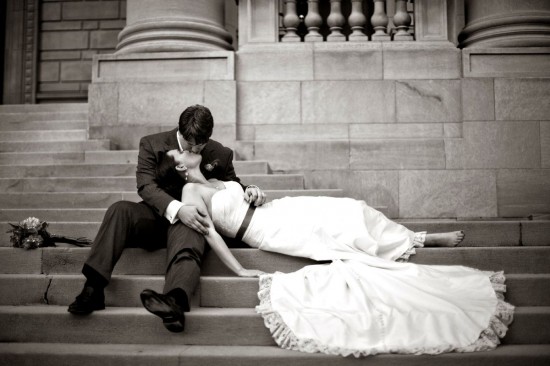 Jenn: APW and The Sisterhood changed my life and shaped my wedding. And I stumbled across it by accident, after a small misunderstanding with my photographer.
I found my photographer (sponsor Jenn Link) on another wedding website. When I emailed to contact her, she thought I had said I found her on APW, and offered me the APW special price for that year. Because this was better than my wildest dreams, I decided to take a gander at this website she mentioned, so that I could honestly say I had seen her over there too… and the rest is history for me.
I read the whole archives that first weekend, and it was just like a cartoon lightbulb came on over my head. I think many people here feel the same way, but across the ocean in London, feeling alone and swamped by how much everything would cost (and yet could still look tacky) APW felt like a shining beacon cutting through the fog of WIC bullsh*t. I finally experienced the delicious freedom to let go of everything the WIC wanted to sell me, but I knew I didn't need.
The first week after I started reading, Meg ran a post on venue chairs, and why it seemed to be one thing sensible women were still willing to spend money to upgrade, despite the obvious unimportance. When I left a comment about how much I hated my venue's pepto pink chairs, but didn't know my sensible side could bring myself to rent new ones, Liz left a comment telling me she was happy for me to borrow the chair covers she had bought for her wedding. And then a few weeks after that, Rachel's post arrived, giving away her dress.
I put myself forward after a long debate, with both myself and my friends/family. I wondered if I would regret not having the experience of "finding the one" with my mom, surrounded by loving bridesmaids, I wondered if I would regret that it was only about 50% like what I had envisioned wearing, I wondered if it was the right size, I wondered if it would even look good on me… there were a lot of doubts. But the buttons—they were just so beautiful! Rachel looked graceful and elegant wearing it, but not in a fussy way, which is how I wanted to be. And also, she partied hard in it, and it was still standing. So I decided to go for it—what was the worst that could happen?
A few months later when I moved back to DC from London, I met with Rachel (and also Sarah) for the hand-off. We had a few beers, got to know each other a tiny bit, and took some immortal Polaroids (with Rachel's actual Polaroid camera, not just an iPhone app) where I have my eyes closed. Once I got the dress home though…I put it on, with great difficulty, and knew I could not wear it in that form. It barely fit me—I felt like a little sausage in a casing, and could definitely not breathe. I really didn't like the bows on the front and back, as I felt like they didn't suit me, and I wondered if I would get to a point where I actually liked the dress, or could sit down while wearing it.