Let's Plan This Thing!
If you're here right now… there's a damn good chance you're starting the wedding planning process in the midst of the most uncertainty the world has seen in quite some time. If you're here, you're probably a #CovidCouple who is staring down the wedding planning process while also navigating questions like: Is it safe to gather my family? Are our dream wedding venues even going to be open by our date? Are we going to see another surge that could mess it all up? Should we hurry up and get married over zoom or at City Hall?
We are seriously so damn sorry. Wedding planning shouldn't be as hard as it is in normal (see: old world) times. But it is, it is hard. And what you're dealing with as you plan a wedding in 2022 is something no one would hope for. So, take some deep breaths. Be patient with yourself. And know that we're here to try to help out as best we can. We've even put together a COVID-19 Couple's Guide, and you should absolutely get it for yourself, stat.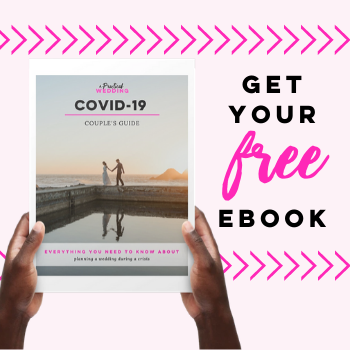 At some point, the world of weddings felt full of infinite possibilities… and so did your Pinterest board. Maybe you'll have a tiny quirky wedding in a forest. Maybe you'll have an all-night disco party in a giant hall. Maybe you'll wear a ballgown… or maybe one of those newfangled wedding jumpsuits. Who knows! The world is your wedding oyster.
Then fast forward to 2022, and frankly nothing feels like an oyster. (Oysters seem nice. Why are those days long gone?) And now it's time to actually start planning, or replanning, or re-replanning And suddenly all that infinite possibility becomes infinite decision making. Where do you start? Revised guestlist? Revised budget? Revised decor? (Hint: It's not the last one.) How are you going to manage all this? And also, why is your family fighting you on all your ideas? So how do you get from "OMG how do we do this?!" to "Okay, I got this!" when you're getting started (or replanning) wedding planning? Well, we're here to help.
For the 2022 Couple
You're facing a wedding planning journey like few before you. It's impossible to know what the next weeks, months, or years will bring. We've gathered some things we hope will help:
cOVID WEDDINGS: We've gathered all our best, most helpful content for you right here. And, you should download our COVID-19 Couple's Guide, too.
Take the party virtual: Whether it's a bridal shower, a bachelorette, or your wedding itself… you can have a virtual party! And it's going to be totally worth it, trust us.
Have to make the dreaded choice to postpone?: We'll help you with the logistics of that, and what to do next. 
Want to celebrate your original date: We've got ideas.
Moving forward with Your plans? Organize Your wedding planning tools, first
checklists galore: Before you even get started, do yourself a favor and download our free, downloadable wedding planning checklists. This is not your average 300-line-item wedding checklist where useful things are peppered in with nonsense like "Shine crystal chandeliers at least one week before the wedding." Our goal is to make your wedding a stress-free experience that will keep you motivated and focused on crossing off your wedding goals, one by one. You can start by figuring out your wedding priorities (yup, there is a worksheet for that too), and then you can Cross off all those things you don't care about, because yes, that's totally allowed. Encouraged, even.
the APW books that will help: You're going to spend a lot of wedding planning Googling. And while we can't tell you which caterer is the best in your particular city, the APW books can save you from having to Google the wedding basics, and walk you through what you need to know in a logical order. The first will help you save time, money, and sanity, and the #APWPlanner can basically plan your wedding for you. (Well ok, you have to do the actual work, but still.)
Spreadsheets: You won't need them quite yet, but get these spreadsheets saved somewhere. We've got you covered on everything from your wedding guest list template to your vendor contact list to your day-of wedding timeline. You'll thank yourself later.
set a budget: Setting your budget can feel like you're just making up numbers… but it doesn't have to. First, you need to decide how much you can spend on your guests. Then, you need to discuss how much you want to spend on your guests. We have sample budgets for 2K to 30K weddings, with advice on figuring out your own wedding budget. Plus, we have a guide on how to stick with your wedding budget when Pinterest is right there taunting you.
do your homework
talk to your families: Ok, you know how you want the wedding to look, feel, and move—now it's time to sit down and have a chat with your families. Are you asking for financial contributions? Have you thought about what kind of input you want them to have? Are there traditions you want to include—or traditions you want to eschew?
MAKE YOUR GUEST LIST: You'll notice that we've put the guest list before venue search. That's because your first step in planning the logistics of your wedding (after budget) should be figuring out who you want there. Then make the rest of your plans around that (doing it the other way around is how you accidentally realize you don't have enough space in your venue for your grandma. Whoops.) We've got tons of guidance on putting that list together. Plus, Our guest list spreadsheet can help keep you organized.
begin the venue search: Now? Now you're really getting started, friends. And we know that this might be looking a little different in this new 2022 landscape. But, you've still got to pick a place to make it happen. We've got a comprehensive guide to choosing a venue right here. But here's a tip to get you started: when you're doing your initial search, try Googling phrases like "Northern California beach wedding" or "Brooklyn diner wedding" and see what comes up. Many venue and photographer websites are optimized to come up in searches like this, so use that to your advantage.
THINK ABOUT VENDORS: First things first: we have a guide full of folks who are committed to honoring your diverse and awesome commitment. They are awesome people and awesome vendors, and you should start your search right there. Then, here's how you hire a wedding photographer, for one (psst: if photography is a top priority, this is a vendor you probably want to lock down ASAP). We also have advice on hiring a florist, hiring a caterer, and hiring a videographer. Speaking of vendors, make sure you get contracts for everyone you work with (yes, even the ones you're friends with.) We've got the useful advice on that right here, plus what to do about tipping your vendors.
Finally, Some really fun stuff!
Figure Out Your Wedding Style: Planning a wedding can be a lot easier if you've figured out what your general style and vibe is. You can start by picking a color palette (gone are the days of blush and bashful… thank God). When it comes to figuring out how to decorate without breaking the bank, you can check out our guide on cheap-but-totally-hip decoration ideas, along with the secret tools we use to create cool wedding designs. We've even rounded up our secret shopping sources. So hit our DIY section, and get your styling on… #LazyGirl style.
Find a Killer dress (or suit): If shopping for a wedding dress makes you feel queasy, we've got your back. Our wedding dress shopping guide has all the details you need on fabric, sizing, and prices. Plus, we've got tips for plus size wedding dress shopping, queer wedding style, and even fair trade wedding dresses. This year we even tested out a way for those of us with lots of boobs to go bra-less.
get real wedding inspiration: One of the best things to do when you're planning a wedding is to find some real-world inspiration. That's super cool, and we actually have featured a lot of couples who did just that. Considering an elopement? They're lovely. Is your community helping make your wedding happen? I bet it'll be gorgeous. If you just want to get lost for a few hours (or days), every single wedding we've ever featured can be found right here.
Did you get our checklists? We've covered all the bases right here